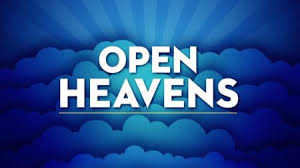 Confession: Isaiah 60
Text:18:41-46
 THE PURPOSE OF THIS PRAYER
 When the heavens are opened unto us, speedy manifestation becomes our portion. We will then have free access to everything in heavenly realms, a free flowing of Gods abundant life and manifestation. When heaven is open for you, God will be near and heaven will be manifested in the natural "on earth as it is in Heaven."
 Manifestations of Open Heavens
Divine Provision by Confession:-
 The LORD shall open unto thee his good treasure, the heaven to give the rain unto thy land in his season, and to bless all the work of thine hand: and thou shalt lend unto many nations, and thou shalt not borrow.
 Yet He had commanded the clouds above, and opened the doors of heaven, had rained down manna on them to eat, and given them of the bread of heaven. Men ate angels' food; He sent them food to the full (Psalm 78:23–25).
 "Bring all the tithes into the storehouse, that there may be food in My house, and try Me now in this," says the LORD of hosts, "if I will not open for you the windows of heaven and pour out for you such blessing that there will not be room enough to receive it" (Malachi 3:10).
People's Needs Are Met Supernaturally. Jobs, promotions, financial turnarounds, business breakthrough, debt cancellations, total recovery etc
 But my God shall supply all your need according to his riches in glory by Christ Jesus. Philippians 4:19.
Speedy answers to prayers: (Mark 11:24).
Outpouring of God's Spirit: (Luke 4:17, Acts 10:38, John 3:34).
 And Jesus, when he was baptized, went up straightway out of the water: and, lo, the heavens were opened unto him, and he saw the Spirit of God descending like a dove, and lighting upon him: Matt. 3:16 
Open Heaven results in mighty miracles, signs and wonders just as Jesus did. The heavens were always open to Jesus. It was a time of divine visitation. God had visited His people (Luke 1:68; 7:16).
I remember the testimony of a brother who used to work with a real estate firm but things were not really working for him there. He couldn't make sales, so he decided to look for another job, but engaging this kind of prayer in this Ministry, the following week, some of the people that he had marketed to previously, called him and made some reasonable payment towards properties. Three days later, another person called him from abroad and also made good payments. At the same time, in his present job, God is doing wonderful things for him. The heavens were opened on his finances and he had all round breakthroughs. His manifestation was sudden; we believe that yours cannot be difficult for God to do. It is your time to manifest!
For secrets to an answered prayer instructions, please refer to our prayer on 'AMAZING
 BREAKTHROUGHS AGAINST STORM'
PRAYERS
I bless you Lord because you are the God of open heavens, in the name of Jesus
I thank you Lord because speedy manifestation comes from you alone, in the name of Jesus
I glorify you because when you open, no man can shut, in the name of Jesus
Please be merciful unto me, in JESUS name.
Father in your mercy do not cast me away from your presence in the name of JESUS
Merciful Father, let my prayers come unto you today, in the name of JESUS
Powers monitoring me for evil catch fire, in the name of Jesus.
Every weapon fashioned against my open heavens, backfire, in the name of Jesus.
Every spiritual counter-attack against my life and family as a result of this prayer, backfire in the name of Jesus.
My Father arise and nullify every arrangement of hell against my manifestation in the name Jesus.
You my life, move forward now by fire and power of the Holy Ghost, in the name of Jesus.
Every spirit of Pharaoh standing against my manifestation, enter into everlasting bondage, in the name of Jesus.
Every evil plantation in my life, be uprooted now, in the name of Jesus.
From today, I possess the gates of my enemies, in the name of Jesus.
Every stubborn entity standing against my breakthrough, be buried now by fire, in the name of Jesus.
2
I immunize and laminate my life from every attack of the wicked; set against my greatness, by the blood of Jesus.
O LORD, begin to promote and comfort me to a higher ground in the name of Jesus.
God of provision; bring honey out of this rock for me, in the name of Jesus.
Blood of Jesus; speak abundant life into my destiny, in the name of Jesus.
My blessings, come from the four winds and cling to me forever, in the name of Jesus.
Every serpent operating against my SUPERNATURAL manifestation, catch fire, in the mighty name of Jesus.
I declare desolate; the habitation of darkness assigned against my breakthrough in life, in the name of Jesus.
Every power having sex with me in the dream to delay my greatness, be consumed now, in the name of Jesus.
I release my spirit and soul from the grip of night attackers, in the mighty name of Jesus.
Conspiracy against my destination in the heavens, scatter by fire, in the name of Jesus.
Every weapon of death set against my destiny and family; backfire, in the name of Jesus.
Every conception of untimely death set against my promotion, be aborted now, in the name of Jesus.
You spirit of Herod hunting against my manifestation, end now like Herod, in the name of Jesus.
Every satanic vessel prepared to drag me to hellfire, receive double destruction, in name of Jesus.
Thank you LORD for answering my prayers now and always, in the name of Jesus.