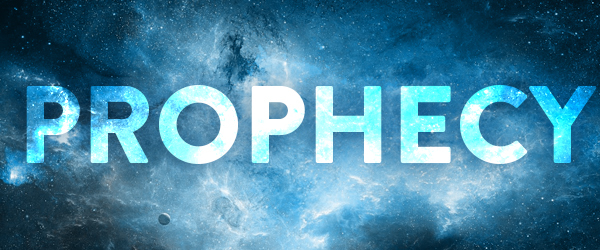 THE PURPOSE OF THIS PRAYER
 This prayer is designed to bring to speedy manifestation to every prophecy upon your life. If God has said something about you and you are yet to see it come to pass, then you need this prayer urgently. In order to bring prophecies to pass in one's life, one has a spiritual responsibility to perform. A lot of believers receive prophecies and after receiving the prophecy, concerning their issues, they go to sleep, doing nothing about it. They believe that since it was from God, it will automatically come to pass in there lives. Most times when it doesn't come to pass, they get confused and frustrated.
Through this prayer, you are going to engage your faith to see prophecies fulfilled in your lives.
1 Timothy 1:18 This charge I commit unto thee, son Timothy, according to the prophecies which went before on thee, that thou by them mightest war a good warfare;
Why you must pray for Prophecies to be fulfilled in your life 
For you to see prophecies come to pass in your life, you must engage your faith through warfare prayers. There are many forces in life that will contend with your inheritance in Christ, that is why you must fight to posess your possesion.
Examples in Scripture
Deuteronomy 2:24:God told the children of Isreal that he has given them the lands of all the surrounding heathen nations for an inheritance, but He still went ahead to encourage them to contend with those nations in battle (Warfare) to possess their land. It is one thing to receive a thing, it is another thing to posess it. Posession involves warfare.
1 Timothy 1:18:Apostle Paul in this scripture was encouraging His son Timothy to wage Spiritual warfare to see the prophetic words spoken concerning him to come to pass. Paul understood that prophecies dont get fulfilled in the lives of spiritually lazy Christians.If you want to see the word of God work for you, you must work it out by faith.
iii. Genesis 15:14-15: God prophesied to Abraham, that his seed would be in captivity for 400 years after which God will deliver them from captivity. Now, that prophecy came to pass many centuries later. Israel became captives in Egypt for 400 years, but at this time, nobody was doing anything to bring the prophecy to pass, so the captivity continued until 30 years later, when the Isrealites began to cry to the Lord for freedom and God sent Moses. The extra 30 years was because no one took spiritual responsibility to bring Gods word to pass.
Daniel 9:2-27:Daniel discovered through the book of Jeremiah the prophet that they were supposed to be in captivity in babylon for only 70 years, but the 70 years has passed and they are still in captivity, nothing has happened. Daniel went on his knees to start praying for the freedom of His nation and God visited Him.
All these instances points to the truth, prophecies don't fulfill themselves, you must engage in faith filled warfare prayers to see prophecies fulfilled. You must arise and possess all that God has made available for you in Christ Jesus.
To see prophecies concerning your life fulfilled, you must wage war, you must fight the good fight of faith, you must engage in spiritual warfare prayers to destroy every opposing forces that will attempt to stand between you and the prophecy of God concerning your life. This is one of such prayers, Pray it vigorously and God shall bring His word to pass in your life, in the name of Jesus
 Deut. 2:24
CONFESSION OF FAITH:-
It is God that guideth me with strength and maketh my way perfect. He made my feet like hind's feet and set me upon my high places. 
Scripture Reference:  Psalm 18:32-33
PRAYER POINTS
My Father, I thank you because all you have said concerning me are bound to happen, in the name of Jesus
Thank you because you are able to bring to pass, everything that you have spoken concerning me, in the name of Jesus.
Thank you Lord because you are forever faithful, in the name of Jesus
I bless you because every pending prophecy in my life is coming to pass now, in the name of Jesus.
I worship you because it is impossible for you to lie, in the name of Jesus.
Lord in your mercy, forgive all my sins, in the name of Jesus
Father in your mercy, do not put my sins to remembrance, in the name of Jesus
Merciful Father, let your mercy speak for me today, in the name of Jesus
Mercy of the living God, overshadow my life today, in the name of Jesus
O God of mercy, let my prayers come up to you today, in the name of Jesus.
Barriers to answered prayers, clear away now, in the name of Jesus
Hindrances, to my answered prayer, clear away by fire, in the name of Jesus
Altars raised to hinder the fulfilment of prophecies in my life, collapse by fire, in the name of Jesus
Powers monitoring and following up prophecies that concerns me, collapse by fire, in the name of Jesus
Gates mounted to stop prophecies that concerns me from manifesting, collapse by fire, in the name of Jesus
Evil gate keeper mounted at the evil gate to stop my prophecies from coming to pass, catch fire, in the name of Jesus
Every quick sand placed at the path of manifestation of prophecies that concern me, swallow now the blood of Jesus, in the name of Jesus
Altars raised to stop prophies that concern me from manifesting, collapse by fire, in the name of Jesus
Hands that have vowed to stop prophecies that concern me from manifesting, wither by fire, in the name of Jesus
Evil womb that has swallowed the prophecy meant for me, vomit it by fire and catch fire, in the name of Jesus
Sacrifices and blood, carried by the wicked to stop prophecies that concerns me from coming to pass, expire by fire, in the name of Jesus
Occult circles and covens holding prophecies that concerns me from coming to pass, catch fire, in the name of Jesus
Anointing for speedy manifestation of prophecies, fall upon prophecies that concerns me now, in the name of Jesus
Warring angels of the living God, scatter the powers stopping the manifestation of prophecies that concerns, in the name of Jesus
My Father, by your power, please remove whatever that is in me that is hindering prophecies from coming to pass, in the name of Jesus
My Father, I thank you for answering my prayer, in the name of Jesus