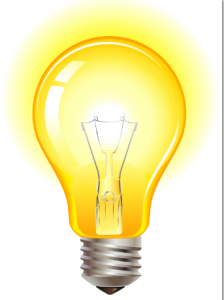 THE PURPOSE OF THIS PRAYER
This prayer is designed for those who want the light of God to shine on them. God Himself is Light. I John 1:5. When God turns on our light, then we begin to walk in the glory of God (Isaiah 60:1) and have a fire in you that the devil cannot withstand.  For God to turn on our light, we need to connect to His Light through prayers and the glory of God be revealed in us!
Use these prayer points to pray for the light of God to shine in your life, situation, home, career, business. When the light of God shines on something, we begin to see what we did not see before. Evil will be exposed, confusion will clear away, clarity will be received, strategies will be received, directions will be shown and the glory of God will be revealed in our lives.
Pray this prayer fervently and the LORD will turn on your light, in the name of Jesus.
John 8:12 – Then spake Jesus again unto them, saying, I am the light of the world: he that followeth me shall not walk in darkness, but shall have the light of life.
John 1:5 – And the light shineth in darkness; and the darkness comprehended it not.
1 John 1:7 – But if we walk in the light, as he is in the light, we have fellowship one with another, and the blood of Jesus Christ his Son cleanseth us from all sin.
Matthew 5:16 – Let your light so shine before men, that they may see your good works, and glorify your Father which is in heaven.
Ephesians 5:8 – For ye were sometimes darkness, but now [are ye] light in the Lord: walk as children of light:
Matthew 5:14 – Ye are the light of the world. A city that is set on an hill cannot be hid.
Psalms 119:105 – Thy word [is] a lamp unto my feet, and a light unto my path.
1 John 1:5 – This then is the message which we have heard of him, and declare unto you, that God is light, and in him is no darkness at all.
1 Peter 2:9 – But ye [are] a chosen generation, a royal priesthood, an holy nation, a peculiar people; that ye should shew forth the praises of him who hath called you out of darkness into his marvellous light:
Psalms 27:1 – The LORD [is] my light and my salvation; whom shall I fear? the LORD [is] the strength of my life; of whom shall I be afraid?
2 Corinthians 4:6 – For God, who commanded the light to shine out of darkness, hath shined in our hearts, to [give] the light of the knowledge of the glory of God in the face of Jesus Christ.
Isaiah 58:8 – Then shall thy light break forth as the morning, and thine health shall spring forth speedily: and thy righteousness shall go before thee; the glory of the LORD shall be thy rereward.
Matthew 4:16 – The people which sat in darkness saw great light; and to them which sat in the region and shadow of death light is sprung up.
John 9:5 – As long as I am in the world, I am the light of the world.
 CONFESSION OF FAITH:-
For I will give for a light, that thou should be my salvation; I am the light of the world, a city that is set upon a hill that cannot be hidden
Scripture Reference:  Isa 49:6, John 8:12
PRAYER POINTS
My Father, I thank you for always hearing my prayer whenever I call, in the name of Jesus
Thank you because you are the Light of the world, in the name of Jesus
I honour you because in you there is no darkness at all, in the name of Jesus.
Thank you because with you, I shall never walk in darkness, in the name of Jesus
I bless you because you will turn on my light today, in the name of Jesus
Father, let your mercy speak for me today, in the name of Jesus.
Lord in your mercy, hear my prayers, in the name of Jesus.
My Father, Forgive me my past tresspasses in the name of Jesus.
Mercy of the Living God, overshadow my life, in the name of Jesus
O God of mercy, have mercy upon my life, in the name of Jesus
Powers of darkness, resisting my light, scatter by fire, in the name of Jesus.
Altars enforcing darkness in my life, catch fire, in the name of Jesus.
Tongues enchanting darkness into my life, I cut you off, in the name of Jesus
Darkness in my environment, clear away by fire, in the name of Jesus
Accuser of my destiny, be silenced now, in the name of Jesus
Dependable God, please turn on the light of my destiny, in the name of Jesus
My Father, let your glory arise upon me, in the name of Jesus
Powers shutting me in darkness, receive fire, in the name of Jesus
By the blood of Jesus, I refuse to live in darkness, in the name of Jesus
Powers of darkness, ensuring that I live in the dark be consumed by fire, in the name of Jesus
My path of life, receive light for me to walk through, in the name of Jesus
Evils locking themselves in the dark in order to afflict me, catch fire, in the name of Jesus
Any loop hole in my life that is permitting darkness, be blocked by the Blood of Jesus, in the name of Jesus
Chains of darkness in my life, break by fire, in the name of Jesus
Hands attempting to switch off my light, wither by fire, in the name of Jesus
Instruments designed to shut down my life, catch fire, in the name of Jesus
My Father, I thank you for making me a light, in the name of Jesus