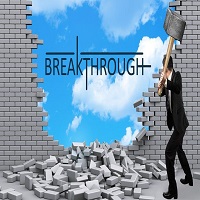 CALLING FORTH MY BREAKTHROUGH.
THE PURPOSE OF THIS PRAYER
This prayer is designed to call forth breakthroughs and miracles. Most times, people are long overdue to get their miracles but it doesn't come forth. There may be somethings in your life that has taken too long to manifest.  Some natural and supernatural forces might be responsible. But with the right prayers, we can call forth our breakthroughs and they will respond to us.
 Thou shalt also decree a thing, and it shall be established unto thee: and the light shall shine upon thy ways. Job 22:28
To call forth your breakthrough, you must first have knowledge of God's will for your life.
My people are destroyed for lack of knowledge…Hosea 4:6a
To gain knowledge, you have to meditate the Word of God day and night. You have to discover exactly who you are and what you are entitled to as a child of God. Your knowledge will increase, and you'll begin walking in the revelations that you've received.
"This book of the law shall not depart out of thy mouth; but thou shalt meditate therein day and night, that thou mayest observe to do according to all that is written therein: for then thou shalt make thy way prosperous, and then thou shalt have good success" (Josh. 1:8).

"So then faith cometh by hearing, and hearing by the word of God" (Rom. 10:17).
In addition to the knowledge gained through the word of God, pray these prayers fervently as you cry to God. And He will answer you speedily, in the name of Jesus.
"Call unto me, and I will answer thee, and show thee great and mighty things, which thou knowest not." Jer. 33:3
 CONFESSION: Arise, Shine for your light (breakthrough) is come and the glory of the Lord is risen upon you; My gate shall continually be opened it shall not be shut day nor night that men may bring unto me the forces of the gentiles and that their queen may be brought. Isaiah 60:1&11
 PRAYER POINT
My Father, I thank you for showing me your mercy, in the name of Jesus
Thank you Lord, because my breakthrough will come to me today, in the name of Jesus
Thank you Father, because you are the God of breaktrhrough, in the name of Jesus
Thank you because you call those things that be not as though they were, in the name of Jesus.
I honour you because your counsel shall stand in my life, in the name of Jesus.
My Father, forgive me any iniquity that is standing between me and my breakthrough, in the name of Jesus
Lord have mercy upon me today, in the name of Jesus
Lord in your mercy hear my prayers in the name of Jesus
My breakthrough, stop hearing the voices of strangers, in the name of Jesus
My breakthrough, stop responding to the instruction of strangers, in the name of Jesus
My breakthrough, escape now from the evil cage, in the name of Jesus
My breakthrough, jump out of that evil pit now, in the name of Jesus
Heaven over my breakthrough, open by fire, in the name of Jesus
Conclusion of the wicked concerning my breakthrough, expire by fire, in the name of Jesus
Evils projected against my breakthrough, return back to the sender, in the name of Jesus
Coffin and grave harbouring my breakthrough, release it by fire now, in the name of Jesus
Altars raised against my breakthrough, collapse by fire, in the name of Jesus
Whosoever that has sworn saying over their dead body will I breakthrough in life, receive the thunder of God, in the name of Jesus
My record in the hand of the wicked, catch fire, in the name of Jesus
My Father, let my breakthrough manifest speedily, in the name of Jesus
By the blood of Jesus, I receive my breakthrough now, in the name of Jesus
My Father, I thank you for my deliverance, in the name of Jesus