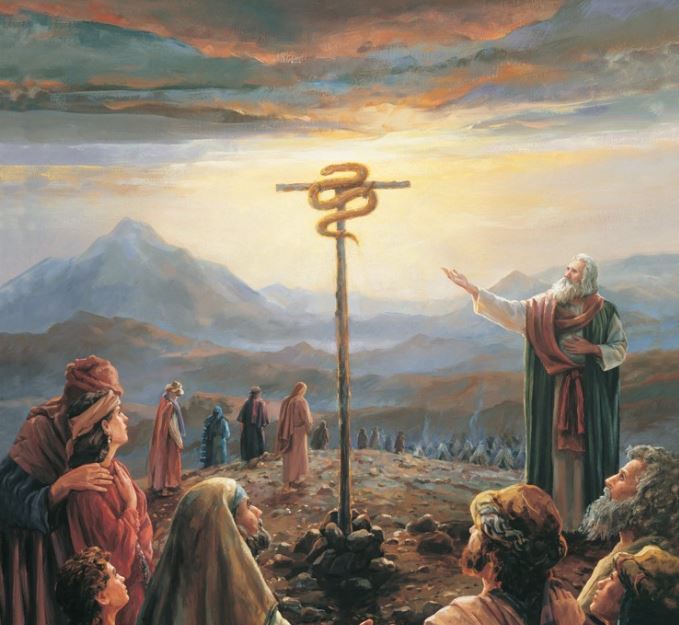 THE PURPOSE OF THIS PRAYER
This prayer has been designed as a counter attack to activities of serpentine spirits. Serpentine spirits are terrible demons, in the realm of the spirit; the devil appears in the form of a serpent.  Some families worship serpents, some have images of serpents in their homes; some have jewelries that carry the images of serpents. Some have shrines and altars dedicated to the worship of serpentine spirits. Some families believe in snakes as their gods which their children also grow up to believe in due to ancestral demonic activities which have put them in bondage of serpentine worship. What some people call spirit spouse is a serpent that appears in form of human being having sexual intercourse with them in their dream.
Serpentine spirits control the marine kingdom, they are the powers behind spirit husbands and spirit wives, they are the forces behind ups and downs, rising and falling, demonic nightmares, they are also behind unfruitfulness, snake bites in the dream ( spiritual poison), ancestral forces, evil patterns, irregular movements in the body, seeing snakes in the dream etc.
Beloved, you do not have to suffer in silence, there is a way out. An effective way of crushing serpentine spirits is through fervent prayers. While praying this prayer, you have to be violent and aggressive in your spirit.  God has given you power to trample on snakes and scorpions. Exercise that power now
Through this prayer, you are going to wage spiritual warfare against these serpentine forces. As you pray this prayer, every trace of the serpent spirit fighting against your life will come to an end, in the name of Jesus.
Your deliverance shall not elude you, in Jesus name.
Luke 10:19 – Behold, I give unto you power to tread on serpents and scorpions, and over all the power of the enemy: and nothing shall by any means hurt you.
Matthew 18:18-20 – Verily I say unto you, Whatsoever ye shall bind on earth shall be bound in heaven: and whatsoever ye shall loose on earth shall be loosed in heaven.
Matthew 28:18 – And Jesus came and spake unto them, saying, All power is given unto me in heaven and in earth.
James 4:7 – Submit yourselves therefore to God. Resist the devil, and he will flee from you.
2 Corinthians 10:3-5 – For though we walk in the flesh, we do not war after the flesh:
1 John 5:4-5 – For whatsoever is born of God overcometh the world: and this is the victory that overcometh the world, [even] our faith.
PRAYER POINTS
My Father, I thank you because my deliverance is sure today, in the name of Jesus
My Father, I thank your are a mighty deliverer, in the name of Jesus
Dependable God, thank you being my saviour all the time, in the name of Jesus
Lord I thank you for the wonder working power in the blood of Jesus, in the name of Jesus
I bless you Lord because you have promsed to hear me whenever I call upon you, you will answer me, in the name of Jesus
Thank you Lord because my victory is secured today, in the name of Jesus
Father, I thank you for hearing me in the day of trouble, in the name of Jesus
Thank you Lord for being my rock and my fortress, in the name of Jesus
Father, I thank you for your lovingkindness and tender merceis towards me, in the name of JESUS
Forgive me Lord, in anyway I have sinned against you through my action and inaction, in the name of JESUS.
Please Lord, do not let my sins stand against me today, in JESUS name.
Please cleanse me with the precious blood of Jesus, in JESUS name.
Please let my prayers come up to you today, in the name of JESUS
Oh God of mercy, let your mercy overshadow me today, in the name of JESUS
Please set me free from iniquity, in the name of JESUS.
My Father, silence my accusers, in the name of Jesus
Hands restricting me from receiving my victory, wither by fire, in the name of Jesus
Spiritual roadblock, placed in my way, break off by fire, in the name of Jesus
Chain holding me to serpentine spirit, break off, in the name of Jesus
Serpentine spirit, manipulating my destiny, collapse by fire, in the name of Jesus
Altars holding me in captivity, catch fire, in the name of Jesus
Thunder of God, locate the coven judging my life, in the name of Jesus
Dependable Father, by your power, I stand on the head of the serpent tormenting my destiny, in the name of Jesus
You serpent spirit of my father's/mother's house, I disconnect from you by the power of God, in the name of Jesus
You serpent spirit of my father's/mother's house, vomit all that belongs to me which you have swallowed, in the name of Jesus
Fire of God, consume the serpentine prison harbouring my star and glory, in the name of Jesus
My Father by your mighty power; I break now the neck of the serpentine spirit tormenting my destiny, in the name of Jesus
Stronghold of serpentine spirit in my life, catch fire, in the name of Jesus
O ye kingdom of the serpent, I pull you down by fire, in the name of Jesus
I crush the head of household serpentine spirit, in the name of Jesus
My Father, by your power, I retrieve my breakthrough from the serpent altar molesting me, in the name of Jesus
Agents of serpentine spirit, sent against me, be consumed by fire, in the name of Jesus
My Father, any property of the serpentine spirit in my possession, I renoune them and consume by fire them, in the name of Jesus
Afflictions caused by the serpentine spirit in my life, get out by fire, in the name of Jesus
Blood of Jesus, purge out every serpentine poison in my system, in the name of Jesus
Oh God of restoration, restore to me all that the serpent has stolen from me, in the name of Jesus
By the blood of Jesus, I nullify every accusation levelled against me, in the name of Jesus
Prince of the Kingdom of the air, stationed to attack my prayers, catch fire, in the name of Jesus
Conspiracy of the enemies over my life, scatter, in the name of Jesus
Evil net spread to catch my answered prayers, catch fire, in the name of Jesus
Every gang up in the heavenlies against my answered prayers, scatter, in the name of Jesus
Anointing that scatters evil arrangement, fall upon me now, in the name of Jesus
Every effort to frustrate the angel of my answererd prayer be cancelled by fire, in the name of Jesus
My Father, I thank you for always answering my prayers, in the name of Jesus
My Father, I thank you because, I am forever in dominion over serpentine spirits, in the name of Jesus